Sustainability
Priority Topics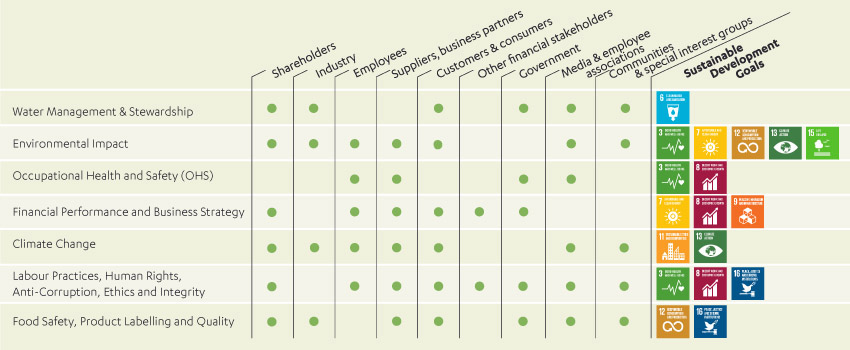 Water Management & Stewardship
The effective management of existing processes and systems to ensure the efficient use and consistent supply of water across all sites.

Environmental Impact
Environmental management systems to effectively identify and manage our environmental impact include carbon emissions, change of land use and chemical management.

Occupational Health & Safety
Select Harvests' policies and management systems to ensure the workplace health and safety of employees and contractors.

Financial Performance and Business Strategy
Sustainable organisational growth strategy that prioritises our almond base optimisation, brand, geographic and category expansion, enduring customer relations and the efficient use of resources to maximise corporate value for our stakeholders.

Climate Change
Recognising the impacts of climate change on our business in our strategic and operational planning.

Labour Practices, Human Rights, Anti-Corruption, Ethics and Integrity
Ensuring that the organisation, our supply chain & customers, engage in fair & ethical practices across all operations and geographie.

Food Safety, Product Labelling and Quality
Traceability, quality and labelling. It goes beyond product safety and compliance, linking to being a leader in the supply of 'Better for You' plant-based foods.